What Are Plasmalogens?
Plasmalogen Supplements
Why Are Low Levels of Plasmalogens Bad?
Plasmalogens and Neurodegeneration
Why Do We Get Low Levels of Plasmalogens?
Plasmalogens And The Cause of Diseases
Plasmalogens to Prevent Disease
Scientifically Designed Plasmalogen Supplements
After years of extensive research, Dr. Goodenowe designed his plasmalogen supplements as a plasmalogen precursor that survives the gut and is then converted to the target plasmalogen molecule independent of peroxisomal function.
To learn more about his plasmalogen supplements, register for his free Educational Seminars here. The Supplements (Series C) seminars include:
Plasmalogen Precursor Design and Development (C101)
The Three Main Functions of Plasmalogens (C102)
Plasmalogen Supplementation Prevents Neurodegeneration (C103)
Plasmalogen Supplementation Prevents Demyelination (C104)
Plasmalogens Are a Special Type of Phospholipid
They are found in high concentrations in the brain, heart, lungs, kidneys, and eyes. Plasmalogens are not a trace nutrient; they actually build a big part of the brain, as much as 20% of the dry weight.
[i] Han X. Lipid alterations in the earliest clinically recognizable stage of Alzheimer's disease: implication of the role of lipids in the pathogenesis of Alzheimer's disease. Curr Alzheimer Res. 2005 Jan;2(1):65-77. Review. PubMed PMID: 15977990. https://www.ncbi.nlm.nih.gov/pubmed/15977990
[ii] Senanayake V, Goodenowe DB. Plasmalogen deficiency and neuropathology in Alzheimer's disease: Causation or coincidence? Alzheimers Dement (N Y). 2019 Oct 4;5:524-532. doi: 10.1016/j.trci.2019.08.003. eCollection 2019.Review. PubMed: 31650009; PubMed Central PMCID: PMC6804645.
https://www.ncbi.nlm.nih.gov/pubmed/31650009
[iii] Rouser G, Yamamoto A. Curvilinear regression course of human brain lipid composition changes with age. Lipids. 1968 May;3(3):284-7. PubMed PMID: 17805871.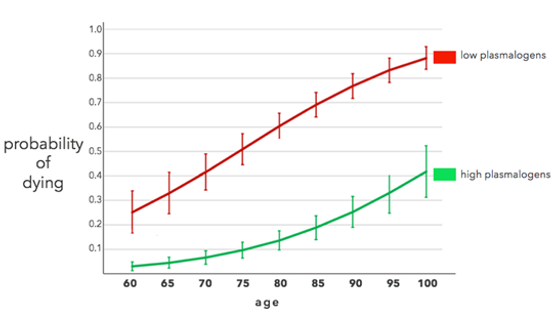 Data from the Rush University Memory and Aging Project showed that a 95-year-old with high plasmalogen levels had the same chance of dying in five years as a 65-year-old with low plasmalogen levels. A 95-year-old with high levels had an almost 70 percent chance of living to their 100th birthday whereas a person the same age with low plasmalogen levels had a less than 20 percent chance of living to their 100th birthday. These results were shocking.
There is no question that plasmalogens are important for health. But what about having low levels of plasmalogens – just how bad can it be? Dr. Goodenowe has made a lot of graphs in his career and only one graph has actually scared him: the relationship between blood plasmalogen levels and death.
Probability of dying in 5.3 years
Data from the Rush University Memory and Aging Project. Final dataset: 1262 participants, participants still living since last clinical visit = 896, participants deceased since last visit = 862. The average age at enrollment = 81. Low plasmalogens = 5th percentile +/- 95% CI. High plasmalogens = 95th percentile +/- 95% CI.
Plasmalogens and neurodegeneration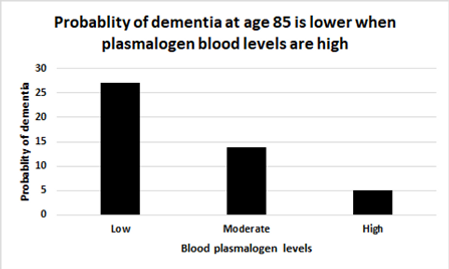 People with dementia have low plasmalogen levels.
Levels are significantly lower in people with all stages of dementia.
The lower the plasmalogen levels, the more severe the disease.
Levels decrease years before any clinical symptoms.
Plasmalogens are a stronger risk factor for dementia than genetics. .
The presence of an APOE e4 allele is a genetic risk factor for dementia/Alzheimer's disease. This genetic risk is modified by the plasmalogen level of that person.
E4 carriers with high plasmalogen levels do not have an increased risk for dementia.
[i] Goodenowe DB, Cook LL, Liu J, Lu Y, Jayasinghe DA, Ahiahonu PW, Heath D, Yamazaki Y, Flax J, Krenitsky KF, Sparks DL, Lerner A, Friedland RP, Kudo T, Kamino K, Morihara T, Takeda M, Wood PL. Peripheral ethanolamine plasmalogen deficiency: a logical causative factor in Alzheimer's disease and dementia. J Lipid Res. 2007 Nov;48(11):2485-98. Epub 2007 Jul 30. PubMed PMID: 17664527.
https://www.ncbi.nlm.nih.gov/pubmed/17664527
[ii] Goodenowe DB, Senanayake V. Relation of Serum Plasmalogens and APOE Genotype to Cognition and Dementia in Older Persons in a Cross-Sectional Study. Brain Sci. 2019 Apr 24;9(4). pii: E92. doi: 10.3390/brainsci9040092. PubMed PMID: 31022959; PubMed Central PMCID: PMC6523320.
why do we get low levels of plasmalogens?
[i] Jenkins CM, Yang K, Liu G, Moon SH, Dilthey BG, Gross RW. Cytochrome c is an oxidative stress-activated plasmalogenase that cleaves plasmenylcholine and plasmenylethanolamine at the sn-1 vinyl ether linkage. J Biol Chem. 2018 Jun1;293(22):8693-8709. doi: 10.1074/jbc.RA117.001629. Epub 2018 Mar 12. PubMed PMID: 29530984.
[ii] Terlecky SR, Koepke JI, Walton PA. Peroxisomes and aging. Biochim Biophys Acta. 2006 Dec;1763(12):1749-54. Epub 2006 Aug 23. Review. PubMed PMID: 17027095.
plasmalogens and the cause of diseases
[i] Braverman NE, Moser AB. Functions of plasmalogen lipids in health and disease. Biochim Biophys Acta. 2012 Sep;1822(9):1442-52. doi: 10.1016/j.bbadis.2012.05.008. Epub 2012 May 22. Review. PubMed PMID: 22627108.
[ii] Su XQ, Wang J, Sinclair AJ. Plasmalogens and Alzheimer's disease: a review. Lipids Health Dis. 2019 Apr 16;18(1):100. doi: 10.1186/s12944-019-1044-1. Review. PubMed PMID: 30992016.
plasmalogens to prevent disease
While we continue to advance research on plasmalogens to answer important questions about the use in disease management, one thing is clear today: plasmalogens are an essential brain nutrient you do not want to be low on. Dr. Goodenowe's scientifically designed, natural plasmalogen supplements ensures there is an adequate amount of plasmalogens in the blood supply for health.