plasmalogens to prevent disease
[i] Miville-Godbout E, Bourque M, Morissette M, Al-Sweidi S, Smith T, Mochizuki A, Senanayake V, Jayasinghe D, Wang L, Goodenowe D, Di Paolo T. Plasmalogen Augmentation Reverses Striatal Dopamine Loss in MPTP Mice. PLoS One. 2016 Mar 9;11(3):e0151020. doi: 10.1371/journal.pone.0151020. eCollection 2016. PubMed PMID: 26959819.
https://www.ncbi.nlm.nih.gov/pubmed/26959819
[iii] Bourque M, Grégoire L, Di Paolo T. The plasmalogen precursor analog PPI-1011 reduces the development of L-DOPA-induced dyskinesias in de novo MPTP monkeys. Behav Brain Res. 2018 Jan 30;337:183-185. doi: 10.1016/j.bbr.2017.09.023. Epub 2017 Sep 14. PubMed PMID: 28917506.
https://www.ncbi.nlm.nih.gov/pubmed/28917506
[iv] Miville-Godbout E, Bourque M, Morissette M, Al-Sweidi S, Smith T, Jayasinghe D, Ritchie S, Di Paolo T. Plasmalogen precursor mitigates striatal dopamine loss in MPTP mice. Brain Res. 2017 Nov 1;1674:70-76. doi: 10.1016/j.brainres.2017.08.020. Epub 2017 Aug 19. PubMed PMID: 28830769.
https://www.ncbi.nlm.nih.gov/pubmed/28830769
[v] Grégoire L, Smith T, Senanayake V, Mochizuki A, Miville-Godbout E, Goodenowe D, Di Paolo T. Plasmalogen precursor analog treatment reduces levodopa-induced dyskinesias in parkinsonian monkeys. Behav Brain Res. 2015 Jun 1;286:328-37. doi: 10.1016/j.bbr.2015.03.012. Epub 2015 Mar 11. PubMed PMID: 25771209.
https://www.ncbi.nlm.nih.gov/pubmed/25771209
Scientifically designed
plasmalogen supplement
After years of extensive research I designed plasmalogen supplements as a plasmalogen precursor that survives the gut and is then converted to the target plasmalogen molecule independent of peroxisomal function.
I first designed and invented a series of plasmalogen drugs because at the time there was a patent protecting the use of natural plasmalogens for dementia which just expired last year. I have since designed and developed natural plasmalogen supplements, the first being ProdromeNeuro developed by my company Prodrome Sciences, that has the same activity as my previously invented PPI-1011 plasmalogen drug.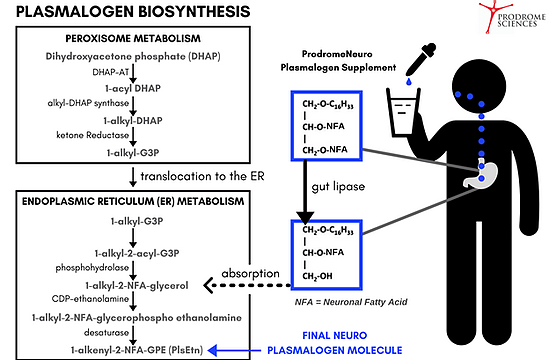 While we continue to advance research on plasmalogens to answer important questions about the use in disease management, one thing is clear today: plasmalogens are an essential brain nutrient you do not want to be low on. Our scientifically designed, natural plasmalogen supplement ensures there is an adequate amount of plasmalogens in the blood supply for health.